Here's some activities we will travel by at the HitchFest 2019 (constantly updated!)
Would you also like to give a concert, a workshop, a performance, a talk, a therapy? Fill up this form ! There will still be time and space in the program for spontaneous activities. Bring your talents and knowledge, bring your will to share!
---
Music
Ingredients: 250ml of rock n'roll, 2g of cheap techno, 30cl of carnivalesque punk, 500g of heavy organic plumb, two table spoons of confusion and eroticism. Preparation: put all the ingredients in the depression cooker. Panelas Depressão are bringing us to boil on saturday evening at the HitchFest 2019 ! Bom apetite!
Beats and Melodies from African roots arrive to the dance floors. MAGuPi is the solo project from
Márcio Pinto
(Terrakota, Olivetreedance, Zumauniverse, Los Negros, Bate&Bala)
Since 1998 discovering the healing power of music by connecting with Source energy. Born in porto, busked through Europe on a caravan, and backpacked through South America until the jungle. Travels and experiences that enrich our songs and sounds of the world. We share all on a journey to dance, unite and open our hearts! 
Lisbon based DIY anarcho punk band who forgot to pay their electricity bills. Transposing our hopes, fears, doubts, frustrations, inconsistencies & dreams to words, screaming them out loud as self-empowerment, travelling and playing, we hope to create an affinity network of friends, while standing together against all forms of authority, coercion & oppression.
Group of apprentices of the portuguese cavaquiho. Traditional portuguese music / folklore.
Os Lousad'Arrufar were born in April 2010 in the same village that hosts the HitchFest – Macieira, in Lousada. With pedagogical and artistic direction of CAISA-Cooperativa de Artes, Intervenção Social e Animação, they took part in several festivals, traditional percussion events and shows all over the country. They melt traditional rhythms with more modern languages, as well as with a strong connection to performing arts. Lousad'Arrufar have as of today about 30 elements, from 4 to 45 years old.
---
Workshops and Presentations
Permaculture
With Francisco Cunha and Rita Esteves, "Ser Recurso" . Specialists in the agro-forestry, ecological practices and natural bio-dynamics, as well as bio-climatic architecture, healthy construction and natural materials. With this fusion we try to spread knowledge to create synergy between natural and humanized environments, recreating and reconnecting the relation human-nature.
With
Samantha Mancino
. Dancing forever! Is what I did and do… through ballet, acrobatic training and Contact Improvisation, all summed up into Yoga. This work is a powerful mix of dance, acro, contact, fluidity and diversity in movement.. dancing with another body. No space, no time. People dance together, even if only for a few minutes, and they maintain most of the time some point of contact between their bodies. It might only be their fingertips touching or they might be rolling acrobatically over each other's shoulders. It might be slow and intimate, it might be whirling and fast. Dancers can lead and follow and they trust their weight to one another. From these basic principles the journey begins.
Therapies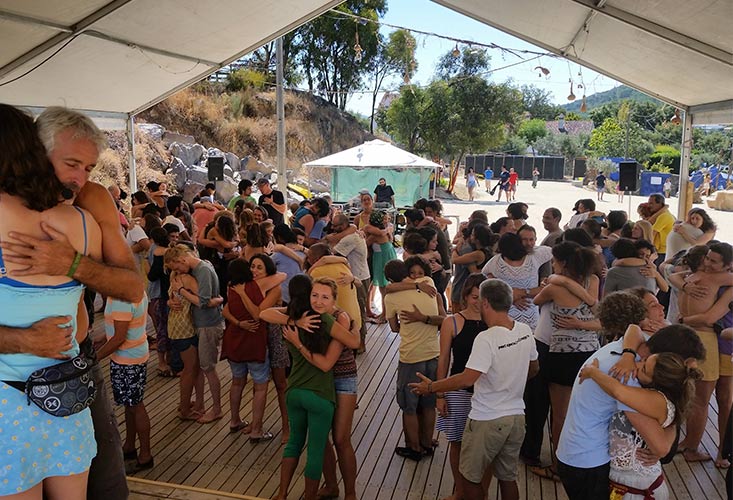 With Pramod. Encounter exists when there is intention and at least two presences. It is impossible when two absences try to find more on the other side where nothing exists. In my work I see myself as an activator of doors you may choose to open and take a deeper honest look into yourself. My objective is to tell my personal history, show you what I can do, inviting you to join me so that we walk part of the path together, growing in the process. Dance, Trust and Celebrate. Fall in love with yourself!